street children & trafficking
Cambodia & India
Street Children Drop-in Shelter
Grassroots Asia has supported World Vision's street children drop-in shelter, located at the Phnom Penh market, where children receive shelter, hot meals, counseling and medical aid.

Phnom Penh City Dump 
Grassroots Asia's first project was the Phnom Penh city dump project, which is still successful. The children working in the Phnom Penh city dump, living in 11 surrounding villages, established a muffin-baking business that helped them earn more than they made at the dump and allowed them half day off to attend morning school. The school was also funded by the program. 
Rescue & Rehabilitation of Child Sex Workers
Grassroots Asia has participated in the rescue of young Cambodian girls who have been kept as sex slaves in red-light districts. Photographs from Grassroots Asia documentary work were featured in the Sunday Edition of the New York Times and at the Agenda 2000: Convention on the Rights of the Child, hosted by ECPAT (End Child Prostitution in Asia).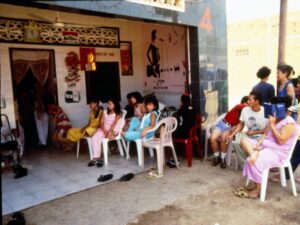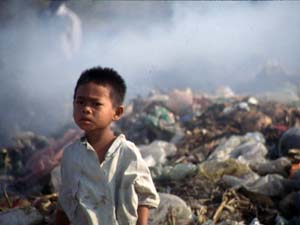 Samvav ('Possible') Center for Teens : Serves four red light districts in S. Kolkata and provides a shelter, light snacks, games, education and safe harbor for more than 100 young teens looking for new opportunities in life. Tailoring classes, computer training, tutoring and counseling are also provided. Teens develop their own programs. Grassroots Asia and Samvav initiated this project in 2003 and it is currently managed by Sanlaap, a Kolkata-based NGO.
The Red-Light School Bus : Grassroots Asia funded the purchase of a school bus to pick children up from red light districts and transport them to the new Samvav ("Possibility") Youth Center where young teens can receive tutoring, computer training, counseling and vocational training. The bus was placed in operation in July 2005 and is being used throughout the Red-Light Districts in Kolkata to serve rehabilitation and prevention programs. The bus has more than doubled the attendance at health and care centers for children.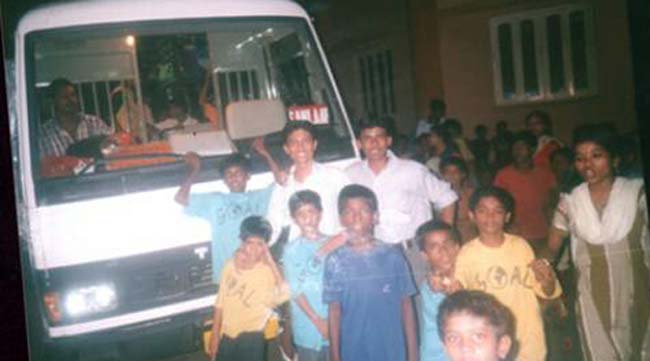 Education Scholarships for Red Light Teens: In an effort to curb second-generation prostitution and trafficking, including boys who are being groomed for pimping, Grassroots Asia and Sanlaap, a Kolkata-based NGO, teamed to provide grants to youth who prefer to continue their education but have no resources. Books and tuition are provided to qualified students who have received good grades and show leadership skills. The program also includes counseling, computer training, a study center, and youth leadership programs designed by the students.