India's "Sponsor-A-Cow Campaign"
Hariharananda Balashram in Pattamundai, Odisha: Grassroots Asia contributed the first 18 cows for a new gosala. Now, the Hariharananda Balashram has over 400 cows and has built a state-of-the-art complex for the cows. The Hariharananda Balashram, a resident home and school for 500 students and 150 staff, manages the dairy which produces thousands of liters of milk a day. Surplus milk is being traded in the market for fresh vegetables and kitchen supplies and pays for the kitchen staff. The school is also making use of the cow dung to provide alternative energy which supplies the school's energy needs.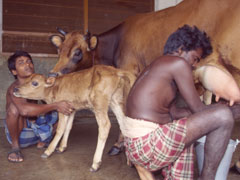 Saraswati Charitable Foundation: 100 children with physical and mental limitations live and study at this resident school outside Puri, Odisha. Grassroots Asia installed ceiling fans and lighting in the new school and has provided a new cow shed. Five cows were purchased and the dairy has now grown considerably. We also contributed to their vocational training program.